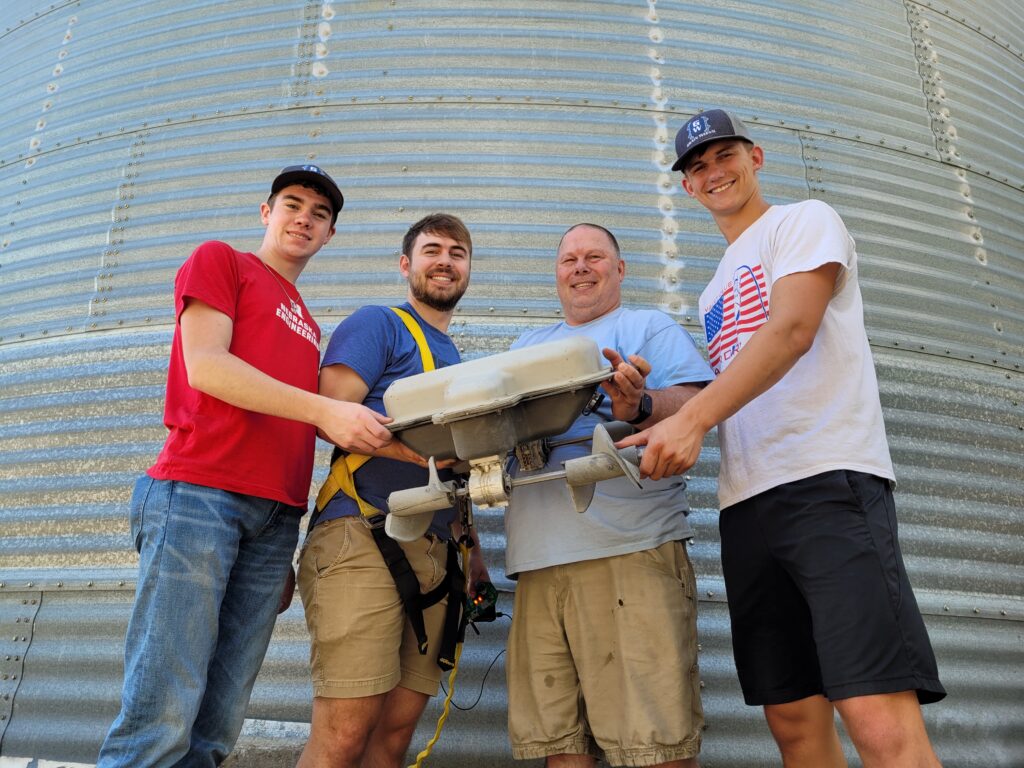 What was your background in prior to Grain Weevil?
Chad Johnson, CEO – I am an elementary school teacher by trade but have spent the last 20 years in informal education. Most recently I was the senior education specialist for Nebraska Public Power District where I created and presented programming focused on energy, safety and using innovation to teach workforce skills.
Ben Johnson, CIO – Ben competed in robotics competitions throughout high school and participated in many of the opportunities provided by NPPD's innovation programs.  Ben graduated from the University of Nebraska Omaha with a degree in electrical engineering.


What made you want to start this business in NE?
The project started as a favor to a family friend, the market potential and perfectly timed opportunities convinced us to launch the startup.


What was the motivation behind this Robot? Why did you take the initiative to do it yourself instead of waiting for someone else to create it?
Benjamin had created a robotic platform for a startup in Chicago and a family friend and local farmer saw the robot and said "If you can build that, build me a robot to keep me out of the grain bin."  This challenge is what quickly turned into an effort to make an impact on farmer well-being by doing the work that no farmer should.


Can you describe the journey of the Grain Weevil, from concept to now?
We started with a seemingly simple challenge to keep Zach and his family out of the grain bins but quickly realized the impact it could have on the entire industry.  After several failed ideas we were finally successful driving on the grain in March of 2020.  We had a local patent lawyer help us write our first provisional patent that same day.  After going viral on Twitter we learned about the Combine incubator and began to develop our business.  After about a year of self-funding and development we landed a prototyping grant and have never looked back.  We have now closed a Seed round of funding led by Invest Nebraska.


In what way has DED's Nebraska Innovation Fund (NIF) Prototype Grant helped in the process?
The prototyping grant came at a perfect time.  It let us build six functional machines to start testing in grain bins and it paved the way for our two young engineers to start working full time right out of college. The grant set us up for success, this includes the opportunity to get an NSF SBIR research grant and the NIF match for that as well.


Has doing business in NE been beneficial for the business? How?
The culture around ag tech startups in Nebraska is tremendous. We wouldn't be where we are today without the efforts of so many people throughout the rural community as well as those programs in Lincoln and Omaha.


What big goals have you already met as a company?
We have secured a first round of funding to ensure that we can accomplish the hard tasks of creating a hardware startup.
We have four (soon to be five) full-time employees.
We have also figured out some tremendously hard technical challenges that have allowed us to gain some national recognition.


What influence might this product have on the ag scene? How might it influence future ideas/ projects/prototypes?
While our primary focus is ag safety, we can achieve the goal of no boots in the grain by improving how farmers and commercial facilities manage stored grain. This impact can save lives and improve the bottom line.  We like to say that Grain Weevil's BinAssistTM technology protects people and their profits.
We try to use our opportunities to help develop the culture of rural ag innovation.  I think the Grain Weevil is a perfect example of how rural innovation can impact the world.


You were named as Farm Bureau's Ag Innovation Challenge winner. What does that mean for you, and for your company as a whole? How will that help Grain Weevil grow?
The Ag Innovation Challenge was a tremendous honor.  The Farm Bureau organization is a perfect customer base for us and the award has given us countless contacts and additional opportunities.  Yes, the prize money is great, but being able to put the American Farm Bureau logo beside our name is priceless.


What is the relationship with The Combine?
The Combine set the foundation for all of our successes.  We started the incubator program in the spring of 2020 and cannot count the doors that have been opened, questions that have been answered, and mistakes that have been avoided by participating.  We continue to participate in Combine events and are engaged in the Combine Insights Network.  There is no better ag incubator in the country.


What are new features you would like the robot to include someday? (In an ideal world, the robot will do this, this and this…)
Our scale, and success, depends on the robot being easier to use than a shovel. This means that the robot needs to do nearly all of the tasks within the grain bin autonomously.  Once we accomplish this, we can fundamentally change the way we store grain.


Where have you tested this robot? Where do you hope to test it next? What types of materials do you hope to test it on?
We have our primary test farm in Giltner, NE and several other farms in Tennessee and Iowa.
We hope to test it next in our custom-built grain bin that will be installed at our Omaha facility (Chief Industries in Kearney is building a one-of-a-kind bin just for us for all of our testing needs).
We have tested the robot on Corn, Soybeans, Popcorn, Rice, Peas/Oats, Red Pinto Beans, Wheat, Milo and sand.  Soon we will have the opportunity to test on items like pistachios, hazelnuts, and maybe even alfalfa pellets.


What's next for the robot? When do you expect manufacturing to begin?
We will finish this year with our farm trials and a few new commercial trials.  Next year we will begin to provide limited services as we build out our back-end system.  Hopefully, if all goes well with our product safety certifications, we will be able to start selling the robot directly to consumers late in 2023 or early 2024.


What are some of the coolest things you've gotten to do since starting Grain Weevil?
We were asked to present the robot and teach a class on innovation at MIT, where we were able to make some great connections between the Grain Weevil and Dr. Harold Edgerton the famous MIT professor who grew up in Aurora, NE.
What are some future goals you hope to meet as a company?
We hope that our robot truly makes an impact on the farming community by reducing risks and improving farmer well-being.
What advice do you have for others before starting a business? 
Use your community resources.  There are people around every corner with expertise, resources, and a willingness to help.
What is the most rewarding part of being a business owner?
Owning a business with my son.