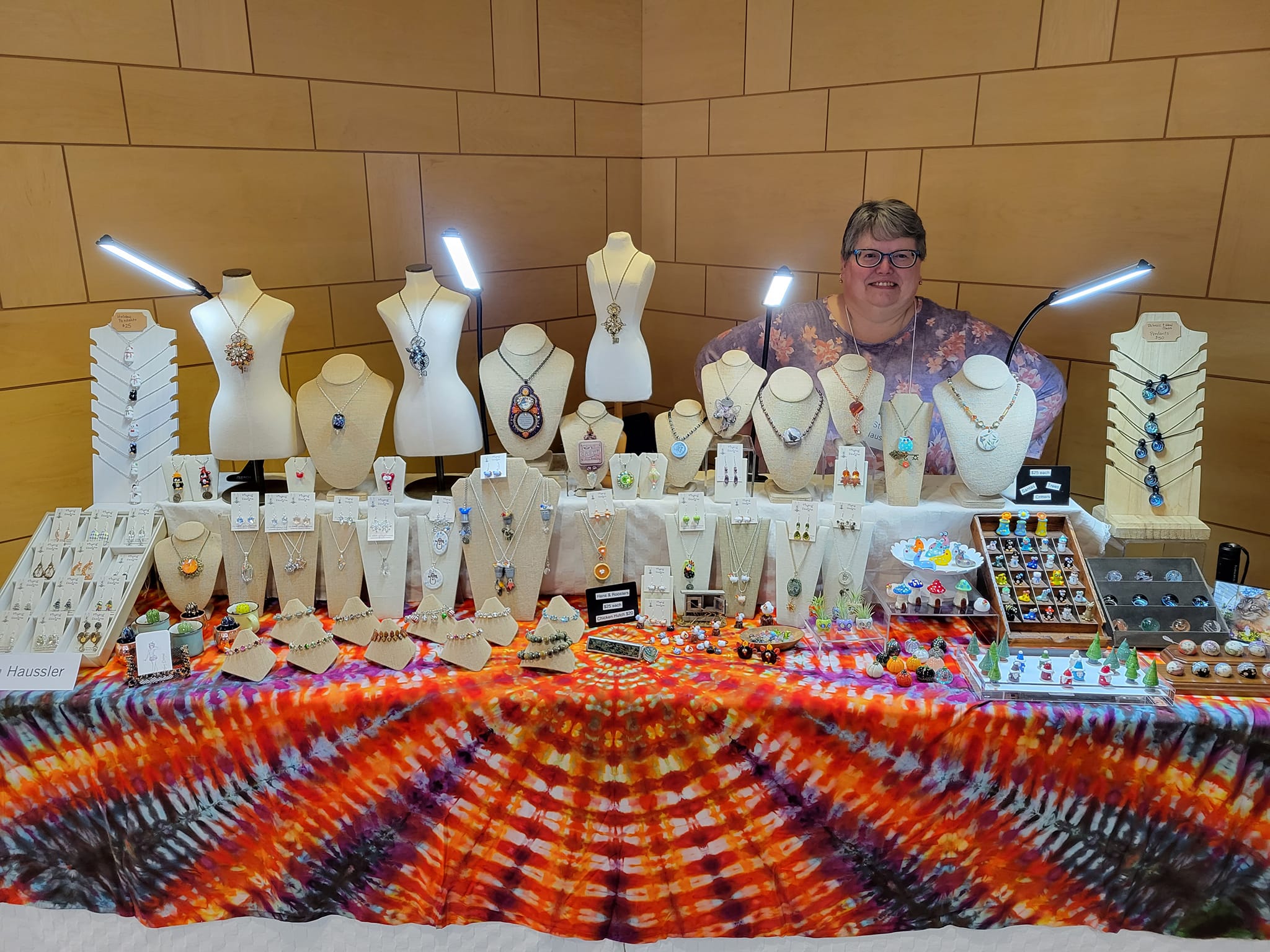 Husband and Wife Team want to spread the message of happiness through their artwork.
By Caroline Sukstorf
If you've been lucky enough to come across the whimsical creations of Chris and Stephanie Haussler, you may be familiar with their intricate and adorable art pieces. Chris and Stephanie Haussler, from Lawrence, Nebraska, are the proud owners of a small business called Pixybug Designs.
They specialize in handmade beaded jewelry and glass marbles and miniature sculptures. Stephanie's love for beads is reflected in the intricate designs of her jewelry, and Chris's creativity shines through in his lampworking creations.
The couple have been running the business for over 16 years, and it all stems back to Stephanie's obsession with beads and an ultimatum from her husband, Chris.
About 20 years ago, Chris and his daughter, Mina, were out shopping around Hastings, Nebraska for a birthday present for Stephanie. The two found a sterling silver tree-of-life pendant and bought it as a gift. "Well, you can't do a whole lot with a little pendant, so you have to have stuff to go with it," Chris explained.  "So she had to buy beads to finish the pendant out as a necklace and buy some more beads which lead to making more jewelry."
Stephanie's love for beads began exploding and, over time, her collection grew. Chris, who is also a creative soul, gave Stephanie an ultimatum: stop buying beads or start selling her creations. Ultimately, this was the motivation for turning her hobby into a unique small business, now known as Pixybug Designs.
The couple started out by selling Stephanie's creations at craft fairs in 2007, and it wasn't long before they gained a following. On one of their bead-buying trips, Chris saw a poster about a beginner's lampworking class, and Stephanie gave Chris an ultimatum: if I am doing this, then so are you. A few weeks later, Chris was learning how to use a MAP gas torch and began making his mesmerizing creations to sell along alongside Stephanie's pieces. Pixybug Designs was now a jewelry design and glass art business.
The demand for their jewelry and glass figurines increased, and Pixybug Designs was a hit. Their customers were constantly asking the duo about which craft fairs and booths they would be visiting next.
For Chris and Stephanie, their customers are more than just people who buy their products. They see them as friends and have built strong relationships with many of them.
The pair takes great pride in their work, and they believe that their creations bring joy to their customers. Chris says, "Our work makes people smile. It makes people happy. That's really what we're about."
Pixybug Designs is not just a business; it's labor of love. Chris and Stephanie put their hearts and souls into every creation, and their passion for their work is evident in the quality of their products. Their designs have been delivered to customers around the world and they have grown their business with the help of social media and word of mouth by happy customers. The couple hopes to continue growing their business and spreading joy through their creations. Chris has been a guest speaker for a few lampwork glass artist groups via Zoom and has also taught "tiny glass" to the glass students at UNK and at the Omaha Hot Shops. He wants to continue to give back to the community that has provided him greater knowledge of the craft. The two see Pixybug Designs as a great a way to share their love for art with the world, and they want to continue down the path of sharing joy with others.
Pixybug Facebook Page
Pixybug Website