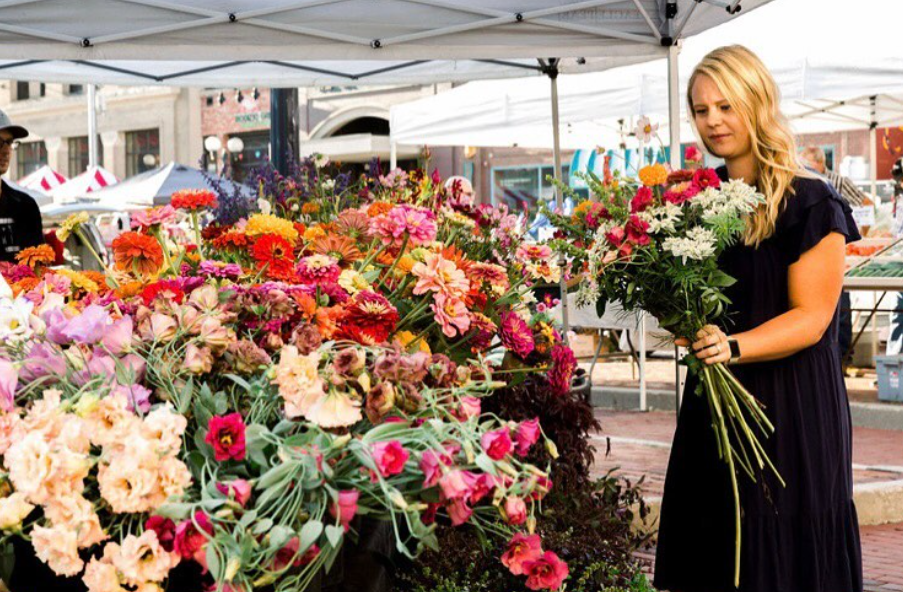 West Mill Flowers is a local Nebraska flower farm on a one acre farm in Raymond, Nebraska. They grow specialty cut flowers, which they use to create custom bouquets. They sell to the Lincoln Haymarket Farmers Market, local florists, and offer pick up and delivery. Becca Monroe, the owner of West Mill Flowers, shared her story about being a business owner and her passion for agriculture.
Buying flowers for yourself or someone else is more than just a transaction. "It gives people happiness and excitement. Especially in our society today, I wish more people could see how kind hearted people are," said Monroe. She admits that witnessing kindness every day is the best part of the job.
One of Monroe's best sellers is a flower called Lisianthus. This flower is very unique because it looks just like a rose, but with slightly different characteristics. "It's so elegant and dainty and it lasts a really long time," said Monroe.
West Mill Flowers now offers a "You Pick" service where they allow customers to come out to the farm and pick out their own flowers. She decided to offer this service when she recognized how much joy it brought her to simply walk through the flower farm.
"Seeing our hard work in full flourish just made me think 'I've got to share this experience with others,'" said Monroe. She is very grateful that people love coming out and experiencing the beauty that flowers offer, just as much as she does.
West Mill Flowers recently made the switch from selling flowers at the Fallbrook Farmers Market to the Haymarket Farmers Market in Lincoln, Nebraska. She applied reluctantly not knowing if she would be ready to handle the larger market – yet they sold out in a matter of a few hours during their first Saturday in the Haymarket.
She made some friends, who are farmers, and one of them encouraged her by saying, "You're a farmer, these markets are made for us, you need to have a high traffic area."
When asked about the most rewarding and most challenging part of owning a business Monroe said, "the thrill of the challenge is rewarding, I just love entrepreneurship." Her husband supports her throughout any difficulties that the business faces and they work through those challenges together.
Despite the climate changes in Nebraska making it increasingly more difficult to grow flowers, "We're not moving," said Monroe. She believes that seeing people who support their community is what makes owning a business in Nebraska worth it.
Stop by West Mill Flowers Farm in Raymond, Nebraska or visit them at the Lincoln Haymarket Farmers Market next time you need a gift for a special someone. Or stop by and get yourself some flowers just because, let's face it – buying flowers is more than just a transaction.
West Mill Flowers Website